Turning Self-Pay
MVA Accounts into Increased Revenue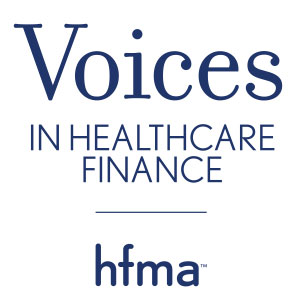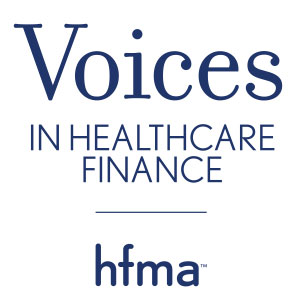 JOIN THE

RED

DOT MVA account REVOLUTION
let's improve the lives of your patients together
Michael Bumann, Firefighter/EMT| Founder & CEO
REDDOT was founded because I knew there was a better way to resolve accounts related to motor vehicle accidents. I've had the opportunity to remain focused on this unique type of accounts since before the year 2000. During the last two decades, I've watched hospitals make great strides to implement new systems and process for almost every other kind of patient, account, and system. Except the self-pay, MVA account. These accounts, due to their 100% manual and complex, non-standardized processes, have forced hospitals to get by with less than optimal performance for far too long.
The "REDDOT Solution" changes everything.
Working with us, our hospital clients create more revenue, faster, with less work while dramatically improving their patients' lives and relationships.
REDDOT is pleased to provide our services and look forward to helping you and your patients revolutionize how complex, self-pay MVA accounts are resolved.
REDDOT – Good for hospitals, good for patients.
Motor Vehicle Accidents (MVA) accounts require an entrepreneurial partner hyper-focused on this complex financial class.
RED

DOT is your solution to unlock significant and ongoing bottom-line revenue quickly.
GROW BOTTOM LINE REVENUE
Create significant revenue when you convert both your aged and future self-pay MVA accounts.
IMPROVE PATIENTS' RELATIONSHIPS
Patients prefer hospitals that don't send them to collections. Our platform creates such a positive outcome with accident patients that our clientsreceive fan mail.
BOOST STAFF MORALE & PRODUCTIVITY
Revenue Cycle teams are negatively impacted dealing with the never-ending growth, and inherent challenges, when resolving these incredible resource-dependent MVA accounts. Shift all of that to REDDOT and let your team focus on their core competencies.
SAVE TIME & RESOURCES
Leveraging the REDDOT solution shifts all the effort and resource required to resolve complex MVA accounts.
STREAMLINE OPERATIONS
REDDOT handles MVA accounts day 1 so your team can focus on higher margin accounts and their core competencies.
IMPROVE PERFORMANCE
Create more revenue, faster, with less work while making your patients happier. That's the REDDOT solution!
THE PERFECT SOLUTION FOR YOUR SELF-PAY MVA ACCOUNTS.
SIMPLE. ELEGANT. EASY. QUICK. NO COST.

RED

DOT MVA Account Solution Platform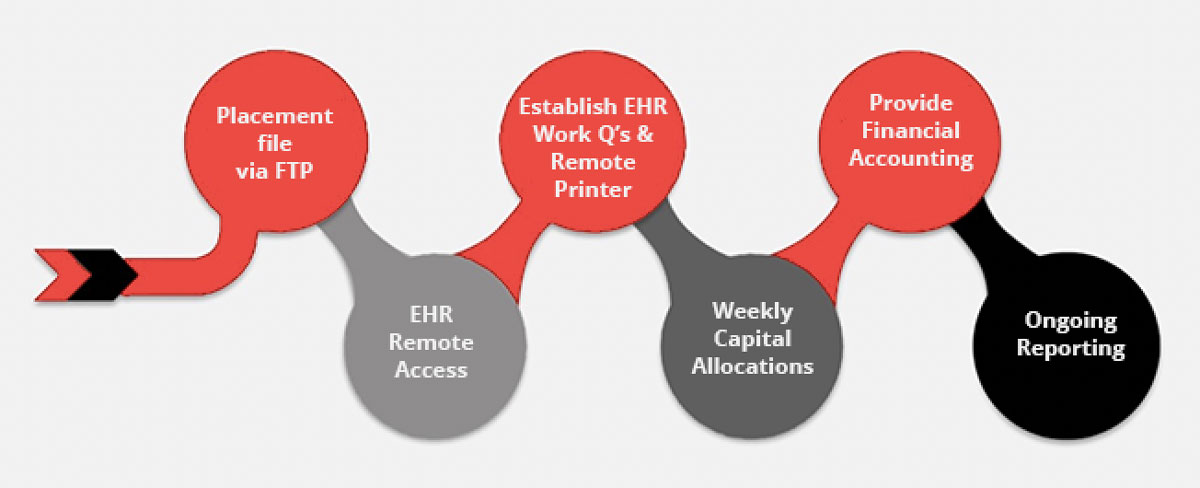 Our solution is designed to be as simple as possible to implement
We provide an elegant solution for aged and future MVA accounts that optimizes hospital recovery while relieving patients from damaging, stressful and embarrassing debt collection practices.
Create revenue immediately and in the future without the internal resource cost. Good for hospitals. Good for patients.
Our Team is Dedicated to Simplifying Your life
The cause of Operating Margin declines are multiyear reductions in topline operating revenue growth. REDDOT REVOLUTIONIZES THE SYSTEM BY IDENTIFYING REVENUE SOURCES FOR YOU and convertING YOUR aged and future self-pay MVA accounts into significant bottom-line revenue.
RED

DOT MVA Account Solution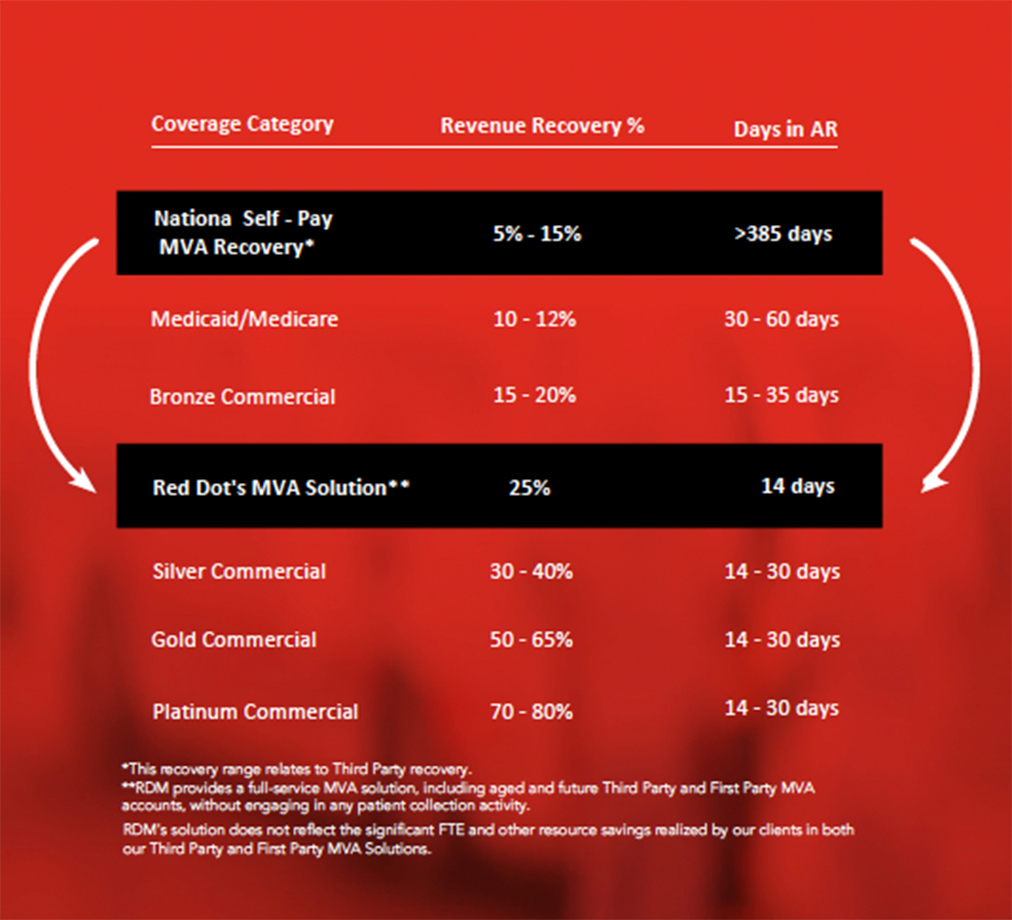 Thank you for hiring a woman of integrity and one who possesses excellent customer service. I know very little about your company, but I can tell you one thing; if all of your em­ployees possess the sincere helpfulness and consideration that your employee does, you have a stellar company. 
Most recently,
RED

DOT
helped our office and client tremendously on his case. The client was trying to purchase a home in the middle of finalizing his settlement.
RED

DOT
was able to get his account out of collections and come to an agreeable settlement with our office, all in a
very timely manner.
I am writing to let you know of the outstanding customer service I had today. I am so grateful, thankful and appreciative of your willingness to go above and beyond to help me sort things out from my accident. Your employee was so kind and helpful. I was really nervous dealing with the accident stuff from being hit, and she completely nailed it. Exceptional outstanding customer service! Thank you for making my entire week. 5 stars!
When
RED

DOT
came on with our hospital, we had an abundance of outstanding claims, dating back to 2015. Since they focused on motor vehicle claims, they were able to create better relationships with patients, attorneys and insurance adjusters, than we were due to under staffing and an excess of claims. Everyone at
RED

DOT
has been extremely helpful in getting patient claims settled timely and efficiently. At the end of the day,
RED

DOT
is here to help and they show that people matter to them.